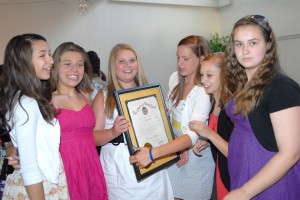 At the invitation of First Lady, Katherine O'Malley, the  Women of Tomorrow honorees will join her for tea on July 27, 2011 at 6:30 p.m. at the Government House located at 110 State Circle, Annapolis, MD 21401. 
  These eight exceptionally talented young women were recently honored by the Maryland Commission on Women. The "Women of Tomorrow" award, established in 1997, identifies young women in middle school and high school who have set sail into their future by demonstrating an extraordinary commitment to community service and academic excellence
"These young women represent the best of Maryland," said Mrs. O'Malley.  "They reside in different regions of the state, are scholastically accomplished with interest varying from animal husbandry to  cancer research and  each posses a deep commitment to making the community better through  their volunteer activities. We should all be very proud of them."
The Women of Tomorrow honorees were selected through a process that begins with an annual statewide call for nominations.  An independent, all-volunteer selection committee reviews the applications and normally selects young women, two per grade grouping from sixth through twelfth grades.  This year's honorees include:
Grades 7-8:
First Place – Michelle Horne, Chesapeake Public Charter School, St. Mary's County
Honorable Mention – Alexandra Comegys, Saint Ursula School, Baltimore County
 Grades 9-10:
First Place – Josephine Grant, Francis Scott Key High School, Carroll County
Honorable Mention – Tyra Hooper, Bryn Mawr School for Girls, Baltimore City
 Grade 11:
First Place – Ilana Price, Bethesda-Chevy Chase High School, Montgomery County
Honorable Mention – Megan Toms, Frederick County Career and Technology Center, Frederick County
 Grade 12:
First Place – Carson Wigley, Worcester Preparatory School, Worcester County
Honorable Mention – Meredith Good-Cohn, Garrison Forest School, Baltimore County
The Maryland Commission for Women, established by the Maryland Legislature in 1971, promotes the social, political, and economic equality of Maryland women.  It advises government, advances solutions, and serves as a statewide resource to expand social, political, and economic opportunities for all women.
______________________________________________________________________________
What:  Tea with the First Lady
Who:  First Lady Katherine O'Malley, Women of Tomorrow Honorees
When:  July 27, 2011, 6:30 p.m.
Where:  Government House
 110 State Circle,  Annapolis, MD 21401