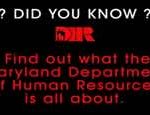 Maryland Observes National Child Abuse Prevention Month
Legislation provides new tool for combating egregious acts of child neglect
BALTIMORE – During April, National Child Abuse Prevention Awareness Month, and during the year, child-serving organizations across the nation raise awareness of child abuse and neglect in an effort to engage community support for children and families. All individuals and organizations play a role in making Maryland a safer place for children.
"Every child in Maryland deserves the opportunity to live and grow in a safe environment – free from abuse, neglect, and fear," said Governor O'Malley. "The long-term consequences of mistreatment of a child can linger long after the initial abuse occurs and may surface during childhood, adolescence, or adulthood. Our Administration is focused on protecting children and helping parents provide proper care and attention to their needs. Working together with our communities, we are employing prevention, intervention, and treatment strategies to assist our families so we can give our children the better future they deserve."
Maryland law mandates the reporting of suspected child abuse and neglect by doctors,
teachers and other professionals who interact with children. In addition, anyone who has concerns for
the safety and well being of a minor should report their suspicions to the proper authorities. This
reporting can be done anonymously.
The Department of Human Resources' StateStat data indicates investigators substantiated 4,140 findings of child neglect during fiscal year 2010. Indicators of abuse may include trouble sleeping or eating, often appearing dirty and unkempt, displaying sexually suggestive behavior, seemingly withdrawn, shy, or passive, and frequently displaying injuries such as bruises, cuts, and/or burns.
The department has been given a new tool in combating egregious cases of neglect. The passage of the O'Malley-Brown administration's Child Neglect bill (SB 178/HB 162) establishes child neglect as a crime. Once Governor O'Malley signs it into law, violators will be guilty of a felony. A conviction carries a maximum penalty of 10 years imprisonment and/or a $10,000 fine.
Call 1-800-332-6347 or call your local department of social services if you suspect child abuse or neglect.