Dinner Aboard the Western Maryland #501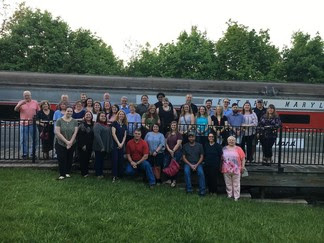 On May 6th, Allegany County Department of Social Services (ACDSS) held its annual Foster Parent Appreciation Event where parents enjoyed dinner aboard the Western Maryland #501, a restored diesel locomotive train built in the 1960's. The unique event began at 5:30 p.m. and lasted until 9:00 p.m. as the train traveled along the Western Maryland Scenic Railroad, hosting 54 attendees in total, 45 of which were foster parents.
The train departed the Western Maryland Railroad Station in Cumberland, Md. and parents took delight in a three-course meal, entertainment, and sightseeing as they relished in the noteworthy experience of the train's vintage dining cars. An on-board narrator provided all attendees with historical facts and pointed out significant cultural locations as Western Maryland #501 traveled through the Allegheny Mountains en route to Frostburg, Md.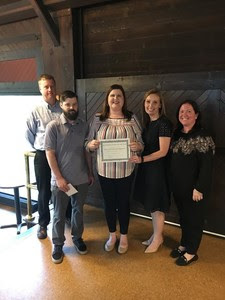 At 7:00 p.m. the train stopped in Frostburg and an award ceremony commenced — recognizing Kathleen and Travis Roberts as "Foster Parents of the Year" for their flexibility, willingness to open their hearts and home to children and youth of any age, and keeping in touch with children who have achieved reunification with their biological families. The ceremony also recognized parents who have reached their 5 and 10 year milestones as a Maryland foster parent. Those recognized were: Brenda and Lance Whitacre for 5 years of fostering, Karen Riley for 10 years of fostering, Jeanne Gibbons and Steven Guinn for 10 years of fostering, and Jenny and Mike Maistros for 10 years of fostering. Appreciation gifts were generously provided by local businesses Clatter Coffee, McFarland Candies, Lorenzo's Bakery, and Walnut Ridge Farm. At 8:00 p.m. the train departed to return to Cumberland and attendees socialized and indulged in dessert along the way.
"It was great to see the parents have a date night and fun with their friends," said Paulette Hose of ACDSS Out-of-Home Services. "They were able to enjoy a break from parenting while being celebrated for all they do."
The 2019 Foster Parent Appreciation Event surely served as a new and memorable experience for many of the foster parents who attended. Thank you to each ACDSS staff member who helped make this event possible.