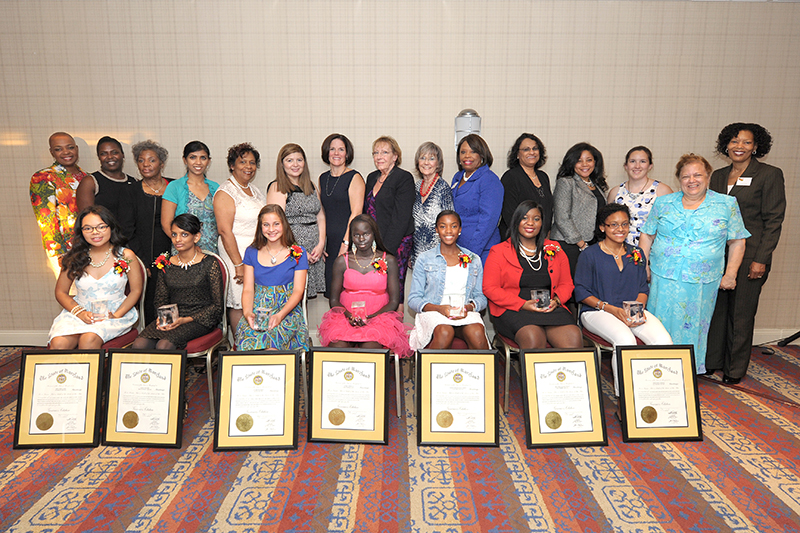 BALTIMORE M​D
JUNE ​ ​25, 2014​
The Maryland Commission for Women will honor seven exceptionally talented young women with the "Women of Tomorrow" award during a ceremony at the Sheraton Hotel, Annapolis MD, on June 26. The keynote speaker will be Laura Gamble, PNC Bank Regional President in Greater Maryland. The award, established in 1997, identifies young women in middle school and high school who have demonstrated an outstanding commitment to their community and to achieving academic excellence.
"Although these young women come from different backgrounds and different parts of the state, they each share a commitment to enhancing their community through their volunteer activities and academic achievement," said Ted Dallas, secretary of the Maryland Department of Human Resources. "They are part of Maryland's proud tradition of strong women who have helped shape our state's history and we are all better off for their efforts."
In 2009, the Maryland public schools system was ranked #1 in the nation in three separate, independent studies. The Education Week study has ranked Maryland number one in the nation for the past five years.
"PNC is proud to support an event that recognizes and elevates the accomplishments of young women in Maryland," said Laura Gamble. "The seven honorees have traveled different paths to achieve this recognition, but they all share a commitment to academic excellence, strong leadership skills and the determination to make meaningful contributions to their local communities and the world."
The Women of Tomorrow honorees were selected through a process that begins with an annual statewide call for nominations. An independent, all-volunteer selection committee reviews the applications and selects young women, two per grade grouping from sixth through twelfth grades. This year's honorees are:


GRADES 7-8 HONOREES
First Place
Eden Williams, Milton Somers Middle School, Charles County
Honorable Mention
Sadia Nourin, Argyle Magnet Middle School, Montgomery County

GRADES 9-10 HONOREES
First Place
Claire Hudson, Perryville High School, Cecil County
Honorable Mention
Achol Odolla, Digital Harbor High School #416, Baltimore City
Harleigh Maxine White, Huntingtown High School, Calvert County

GRADES 11-12 HONOREES
First Place
Delanee-Alexis Coley, New Town High School, Baltimore County
Honorable Mention
Mercedes Myrick, Patapsco High School & Center for the Arts, Baltimore County


Media interested in covering this event or obtaining photos of the award recipients after the event should contact DHR Communications Office, Paula Tolson, 410-767-8947.
The Maryland Commission for Women, established by the Maryland Legislature in 1971, promotes the social, political, and economic equality of Maryland women. It advises government, advances solutions, and serves as a statewide resource to expand social, political, and economic opportunities for all women. The Maryland Department of Human Resources houses the Commission and provides oversight and administrative support.
###